The 2019 Audi Q8
The Chinese consider 8 to be a lucky number. Eight is also important in music theory; many scales are written in eighth notes. In Audi-speak, 8 means flagship, like the A8 and the R8. The German firm just added a third and final pillar named Q8 to its armada of range-topping models, and it will be at H.J. Pfaff Audi shortly. In this article by H.J. Pfaff Audi , we will talk more about some of the features of this new premium quality Audi SUV. Read on for more information.
Begin your search for new Audi cars here.
Interior and Tech
The design of the Q8's interior makes sitting behind the wheel feel like taking a chair in a cockpit, especially with a desert as a background. Film crews could film a sequel to Mad Max in this scenery. The widespread use of straight lines bolsters that effect. Audi added a thin, elegant strip of chrome trim to the top part of the dashboard to emphasize the Q8's sense of width, and installed genuine metal trim to frame the center console. Every part within the driver's line of sight or touch feels like it belongs in a luxury car, and we found no egregious signs of cost-cutting. The Q8 upholds Audi's reputation for making quality interior by feeling every bit as nice as Porsche's latest Cayenne. Audi's newest infotainment software, which we've previously called one of the best systems in the business, re-appears in the Q8. It's built around a 10.1-inch touch screen with haptic feedback, meaning it emits a little vibration to confirm you've pressed an icon. We like the shallow menus that facilitate the task of finding a setting, and we love the drag-and-drop function.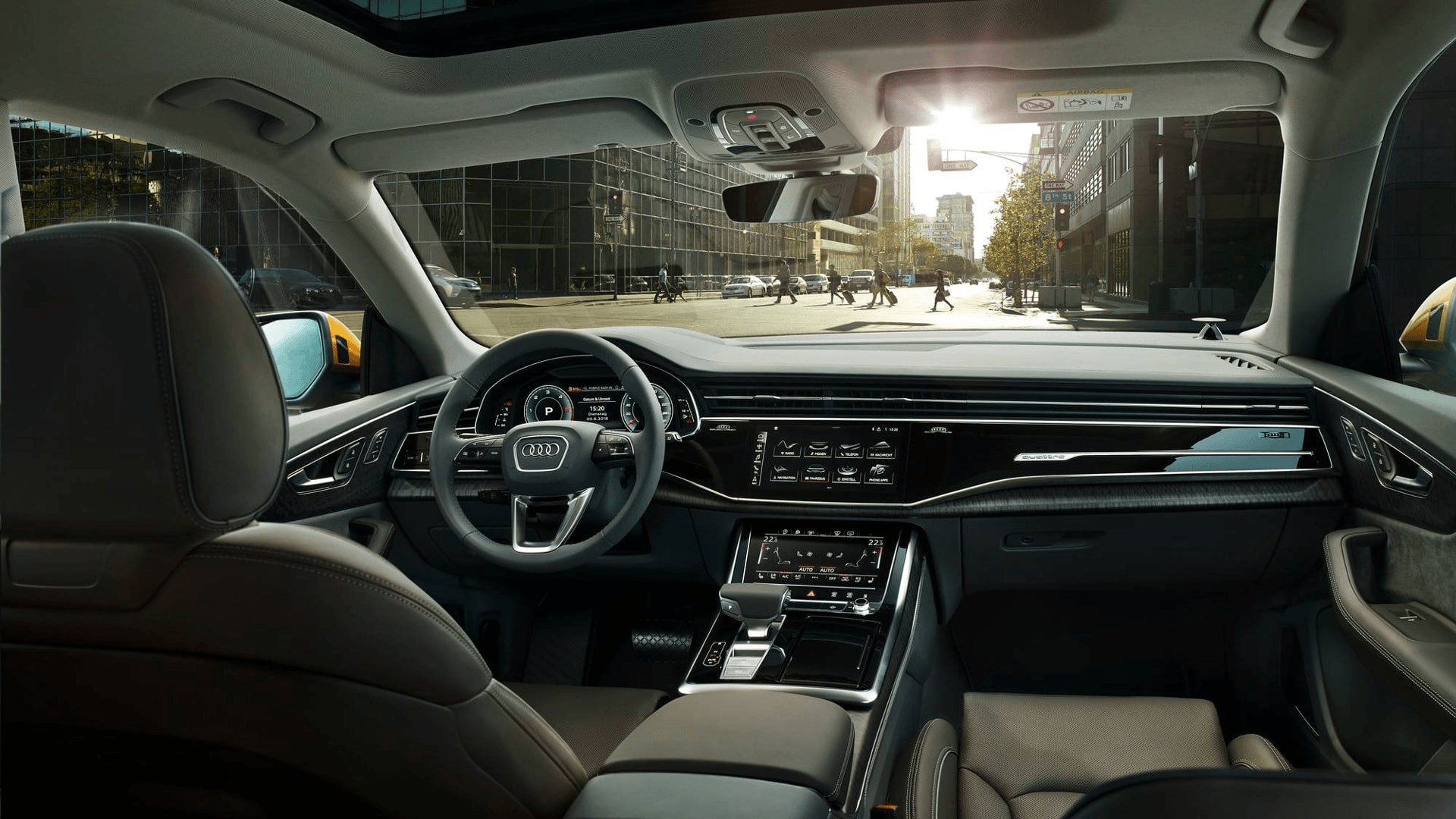 Driving Experience
The Q8 is the first chapter in a book that will later include high-performance SQ8 and RS Q8 variants, both with V8 power. We're not there yet. The standard Q8 comes with a turbocharged, 3.0-liter V6 engine that makes 335 horsepower and 368 pound-feet of torque. It sends its power to the four wheels through an eight-speed automatic transmission and Audi's quattro all-wheel drive system. The 40/60 front-rear torque split endows the Q8 with rear-biased handling in normal driving conditions.
The Q8 is in the same ballpark as its rivals in the performance department. It's important to remember those 335 horses need to move about 4,700 pounds, but in spite of the altitude of the roads we're on the Q8 manages to feel respectably quick off the line, especially with the drive mode selector switched to dynamic. Model-specific suspension settings help it deliver a more engaging driving experience than the Q7 it's based on, though we wish the electromechanical steering rack offered more feel. It enters a corner with stride, shows a surprising level of lateral grip, and exits it with aplomb thanks to a thick lump of torque available across nearly the entire rev range.
Exterior
As with every Audi, the grille is a focal point of the design. And the new Q8 takes it to a whole new level. As standard, the mask is painted the same striking colour as the body, while the available S line package features a more aggressive dark chrome with matte finish. The Q8 comes standard with 20-inch wheels which are sure to turn heads. Available with designs up to 22-inch, the Q8 makes a statement to match your style. Dial up the intensity even further with the available S line package. With larger air intakes, flared side sills and a lower ride height, this Q8 strikes the right note.
More than merely a burlier Q7, Audi's top-dog SUV lives up to the 8 in its name with tech, luxury, and power. Stay tuned in with this vehicle and be the first to come into H.J. Pfaff Audi to take one out for a test drive when it's here! For more information about our H.J. Pfaff Audi dealership, please feel free to continue browsing through our website. Click here to find our contact information and to fill out our contact form.