Audi Service in Newmarket
Keeping up with your vehicle's scheduled maintenance is the best way to keep your Audi delivering the performance and driving experience you expect. It's also a great way to help protect the value of your vehicle. At H.J. Pfaff Audi, we recommend you take your vehicle only to authorized Audi Dealers to ensure that vehicle repairs are performed to the highest specifications. Your authorized Audi Dealer has the proper tools and equipment, a staff of trained specialists and access to the extensive range of parts necessary to properly maintain your vehicle's safety, reliability and value for years to come. For professional Audi service in Newmarket, there's H.J. Pfaff Audi!
Begin your search for Audi vehicles here.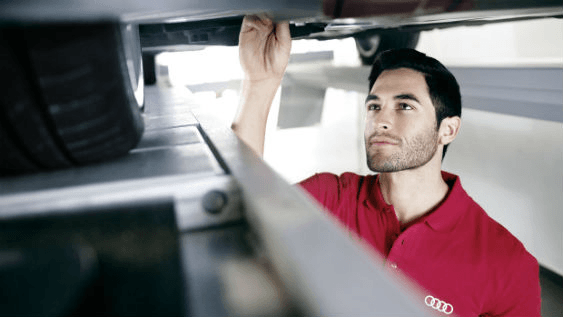 Benefits of Audi service at H.J. Pfaff Audi
The Audi Service Department at H.J. Pfaff Audi is equipped to handle everything from routine maintenance to major repairs. We also offer Audi Genuine Parts and Accessories, providing assurance that your vehicle will remain the Audi it was on the day you first bought it.
It's important to us that you enjoy the original quality and peak performance of your Audi vehicle throughout your years of ownership. We highly recommend bringing your vehicle an authorized Audi Dealer for regularly scheduled maintenance.
You'll enjoy the confidence of knowing that your Audi is in the hands of trusted technicians.
Audi technicians have been trained to work with your specific Audi model.
Audi technicians know your Audi vehicle better than anyone else and can confidently diagnose any mechanical issues and perform the necessary procedures to get you back on the road.
They use only Audi Genuine Parts and Accessories, most repairs shops use generic parts and accessories that aren't engineered or tested to meet Audi's high standards.
As you know, Audi models are built with meticulous attention to detail and the finest craftsmanship. Your Audi should have the same level of care and dedication when it is being serviced and repaired. Simply schedule a service appointment online and drop off your vehicle at H.J. Pfaff Audi's repair centre, they'll take care of the rest.
For more information about Audi service in Newmarket at H.J. Pfaff Audi, please feel free to continue browsing through our website. Click here to find our contact information and to fill out our contact form.