Get winter tires in Newmarket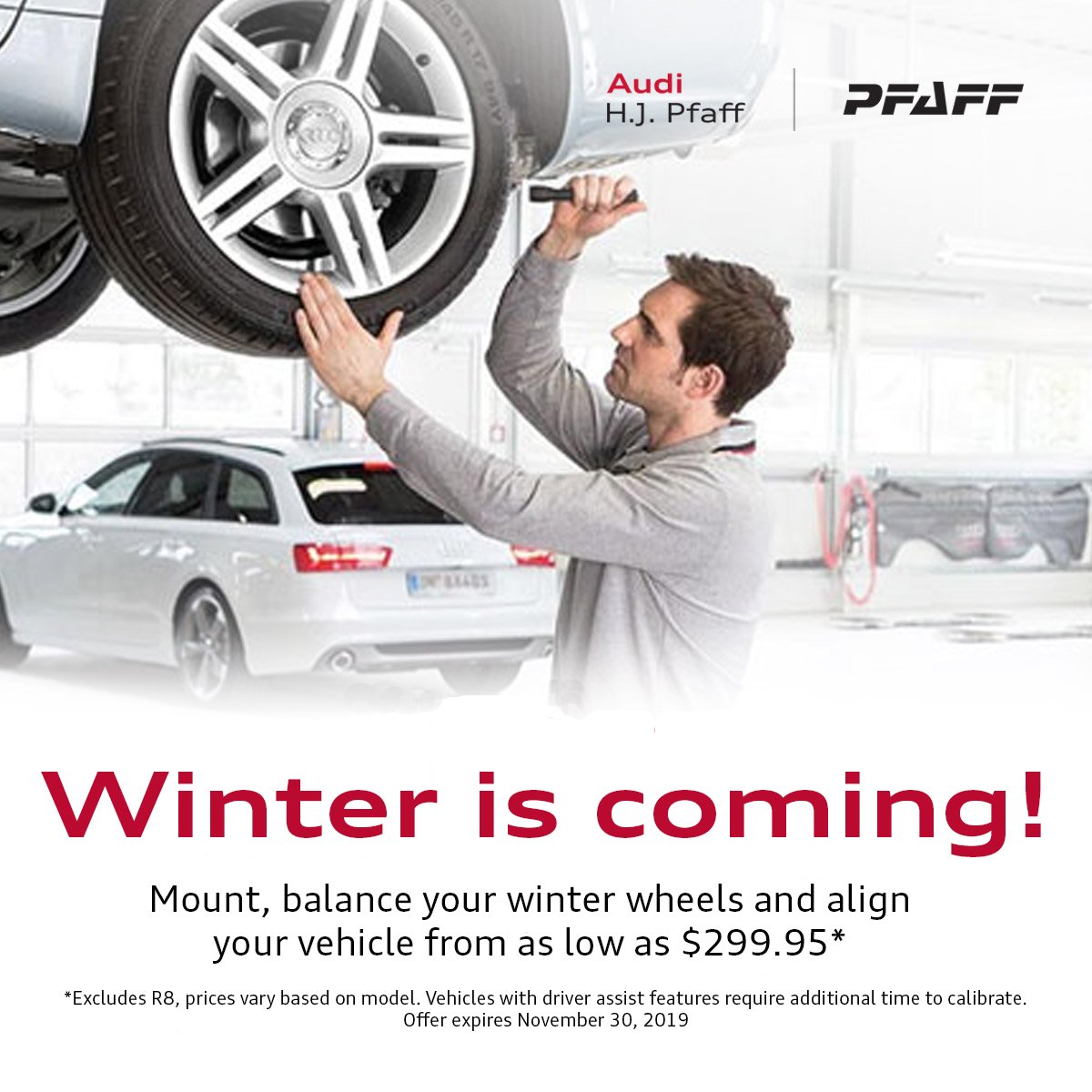 Get winter tires in Newmarket
The winter in Ontario has hit and if you haven't already put your winter tires on, now would be a good time to get that done. For Newmarket residents looking for winter tires, H.J. Pfaff Audi is here to help! With Audi Winter Tire Packages, there is something for everyone! We recommend swapping from your all-seasons or summer tires to winter tires when the average temperature is around 7 degrees Celsius. The reason is that winter tires use compounds that are designed and optimized specifically for these cooler temperatures and will provide the best traction for improved handling and performance. If you are looking to get winter tires in Newmarket, you are encouraged to continue reading this blog by H.J. Pfaff Audi!
Click here to begin browsing through our Audi winter tire packages at H.J. Pfaff Audi!
The advantages only Audi Genuine Winter Wheels can offer
When you chose your Audi, you chose a vehicle built with uncompromising quality and workmanship. Your winter wheels decision shouldn't be any different. Audi Genuine Winter Wheels are the right choice for your vehicle for many reasons, but safety for you and your family is the main one!
Exemplary durability & bold design
From excellent material and casting quality to four layers of paint and a special hardening process, Audi Genuine Winter Wheels are an investment that will prove to be even more rewarding down the road. Audi's broad range of bold, eye-catching wheels gives you the freedom to select a design precisely in tune with your personal style.
Tested thoroughly and fits like a glove
Audi Genuine Winter Wheels are developed in parallel with Audi vehicles, which means they work in total harmony with the models they are built for. Audi carries out numerous evaluation tests and inspections to ensure all their Audi Genuine Winter Wheels meet the most stringent quality standards. These tests include:
Rolling tests
Radial impact tests
Ridge tests
Material characteristics tests
CASS test
Climate condensation tests
X-ray & computer tomography tests
Performance & confidence
Newer generations of winter tires are designed with a more flexible rubber compound that is less prone to stiffen in colder temperatures. Their tread is also designed to provide improved traction on wet, slushy, snowy, icy and dry cold surfaces.
Winter tires are essential for driving in Newmarket under snowy and icy conditions. Protect your Audi vehicle, yourself, and your family with Audi winter tires today! Additionally, if you already have winter tires, you can make an appointment at our service department to have them put on your Audi! Click here to find our contact information, schedule a service appointment, or to speak with an H.J. Pfaff Audi representative.